Certified Professional Dog Trainer (CPDT-KA) Maxwell Award Winning Author- Reference Book of the Year, 2015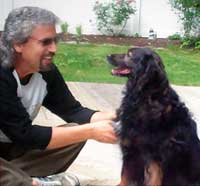 I provide puppy and dog owners in Cary, Raleigh, Apex, Holly Springs with what they want to achieve – peace of mind, a better quality of life, a mannerly dog, and safety for their family and dog all through the convenience of positive reinforcement,  in home training.
As a CPDT-KA, not only am I knowledge tested by the only independent certification council in the world (the CCPDT) I must earn Continuing Education Credits which allow me to provide you with the latest, most effective methods. I also live by the  CCPDT Code of Ethics .
If you want to enjoy the dog that you've been missing,  please contact me and join the several hundreds of dog owners who discovered that the dog they always wanted was the one they were already living with.
Recommended by Cary and Raleigh veterinarians – Gentle Care Animal Hospital, Kildaire Animal Medical Center, Mayfair Animal Hospital, Wellington Animal Hospital, Creature Comforts and NC State Veterinary College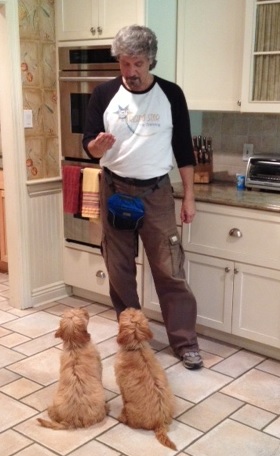 "John is brilliant, innovative and always willing to offer advice and help solve a problem. He is an excellent positive dog trainer. John holds himself to the highest professional standards. If you're looking for a dog trainer or puppy trainer in Cary, I recommend John as a dog trainer and motivator."
Michelle Douglas (former President, APDT- Association of Pet Dog Trainers)
I have witnessed first hand the amazing transformation that John's talent, patience and love have brought forth in several different dogs, regardless of age, breed or background. He has made life happier for pets and owners alike. I would never use any other  dog trainer. I know with John, both the dogs and I are in good hands.
Anne R. Cary, NC
For more rave reviews, click here.

With my wonderful rescue, Pepper. With my friend, the father of positive reinforcement training,  Dr. Ian Dunbar (click here to read about him).
My Credentials
CPDT-KA (Certified Professional Dog Trainer) #2112724 
AKC Certified Canine Good Citizen evaluator #77330 
Member APDT (Association of Pet Dog Trainers) #74163 
Former Chair for APDT Member Relations 
Charter Member, Pet Professional Guild
Author of "Of Dogs and Men" column appearing in Chronicle of the Dog magazine
Author "Canine Thunder Phobia" Chronicle of the Dog Magazine
"Rescue Reporter" for LI DOG DIRECTORY
Maxwell Award Winner- Reference book of the year 2015
Columnist, Barks from the Guild
Co-creator and presenter of "Transitions: Your Baby and Your Dog" program
Columnist for The Examiner 
Member,  Truly Dog Friendly as Positive Reinforcement trainer
Presenter Doggonesafe
Member IAABC
Extensive shelter/rescue
Continuing Education Seminars/Lectures/Workshops
Science Based Training With Feeling; Dr Ian Dunbar
Lassie Come! Patricial McConnell, Ph. D.
Cujo Meets Pavlov; Kathy Sdao, MA, ACAAB
Storm & Other Phobias; Dr Nicholas Dodman
Scent Work In Dogs; Susan Bulanda CABC
How to Run Successful Group Classes; Rocky Boatman
Training Dogs With Dunbar; Dr Ian Dunbar
Feeling Outnumbered? Patricial McConnell, Ph. D.
Behavior Problems; Dr Ian Dunbar
Helping Fido With Your Baby; Suzanne Hetts, Ph. D. and Daniel Estep, Ph. D.
Walking & Heeling; Dr Ian Dunbar
The Art of Trick Dogging; Emily Larlham
Positive Reinforcement Beyond Food Rewards; Johnny Angel CDBC
For the Love of a Dog; Patricia McConnell, Ph. D.
Dominance Theory; Pam Reid, Ph. D.
Advanced Canine Behavior Seminar; Patricia McConnell, Ph. D.
From Leashes to Neurons and Psychopharmacology; Karen Overall, MA, VMD, Ph. D., DACVB
Rehabilitating the Shelter Dog; Pamela Reid, Ph. D.
Behavioral Genetics; James Ha, PHD, CAAB
Medications for Behavior Problems in Dogs and Cats; Louisa Beal, DVM
Motor Patterns and their influence on breed specific behavior problems; Ken McCort
Hyperactivity in Dogs, Dr. Ian Dunbar
Aggression from a Dog's Point of View, Chris Back
Staff Trainer- Helen Ballew

Credentials
Veterinary Technician- 14 years experience.
Association of Professional Dog Trainers- member #86915
Doggone Safe (safe interaction between children and dogs)- member #36028242
Pet Professional Guild- Member #36028130
Graduate- Animal Care Professionals The  21st Century Dog Lecture Series:  A Thorough Examination of Canine Behavior and Implications for the Human-Dog Relationship in the Modern World presented by Kim Brophey, CDBC, CPDT-KA, APD
Rising Star Dog Training Methodology:
The question to ask is, "What will you do when my dog gets it wrong?"     

You don't need to be heavy handed  to achieve results with your puppy or adult dog. In fact,  positive reinforcement training methods yield much more powerful and long lasting results without the risk of unintended negative consequences that often accompany correction/punishment based methods. At minimum, when looking for a trainer,  you are entitled to know how that trainer is going to motivate your dog or puppy. The question to ask is, "What will you do when my dog gets it wrong?" When we work together, if your dog gets it wrong, we'll go back to reinforce the behaviors that s/he does correctly and then build on them. The benefit to you? A dog or puppy who stays well balanced and social while learning all the behaviors that make her/him a good family member. Another benefit? Training is fun, for you and your dog.
Be wary of trainers who obfuscate their motivational methods by being hazy, using terms such as "natural" or "balanced" methods. At minimum, you're entitled to know exactly how your dog will be motivated and there are only two ways to do so – the avoidance of something unpleasant, such as pain, intimidation, and force – or the pursuit of something positive, food, fetch, tug, a belly rub, etc.
With Rising Star Dog Training, positive reinforcement teaches the puppy or dog what we want her/him to do, rather than constantly correcting the dog for behaviors we don't want. Constant corrections can be time consuming, tedious and frustrating.  In every context, you know what you want your dog to do so, let's teach him/her the behavior you want and reinforce that behavior, which is much easier, less stressful, less time consuming,  more effective and more fun than continually correcting unwanted behaviors.
When positive reinforcement training is implemented correctly, the use of a reinforcement, such as food, is faded out very quickly so that we don't end up with a "show me the money" dog, that is a dog who will only perform reliably when food is available or a dog that we need to bribe. And positive reinforcement training is great for puppies too.
What's the benefit to you? You'll have a well trained, safe, emotionally well-balanced puppy or dog without the HIGH level of risk associated with harsh, heavy handed, force or intimidation methods.
How to Hire a Dog Trainer American College of Veterinary Behaviorists Position Paper
A picture paints 1000 words
Recently, I conducted an in-home dog training session for a family in Cary, NC with a Goldendoodle puppy. While I was training, the owner's five year old daughter was alternately watching me and quietly painting. When the session was over, she handed me the painting (below) and said "Thank you for helping us with our GoldenNoodle puppy. This is for you"
Her sentiments perfectly express the experience I strive to create when working with clients.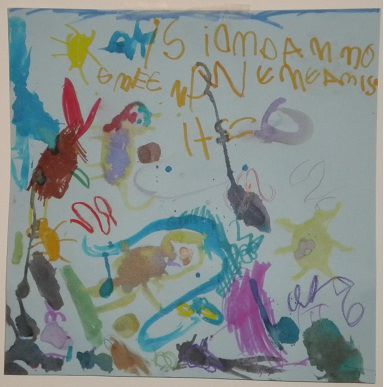 n