Certified Professional Dog Trainer, CPDT-KA servicing Cary, Raleigh, Apex, Holly Springs and more.
Did you know that anyone can call themselves a dog trainer?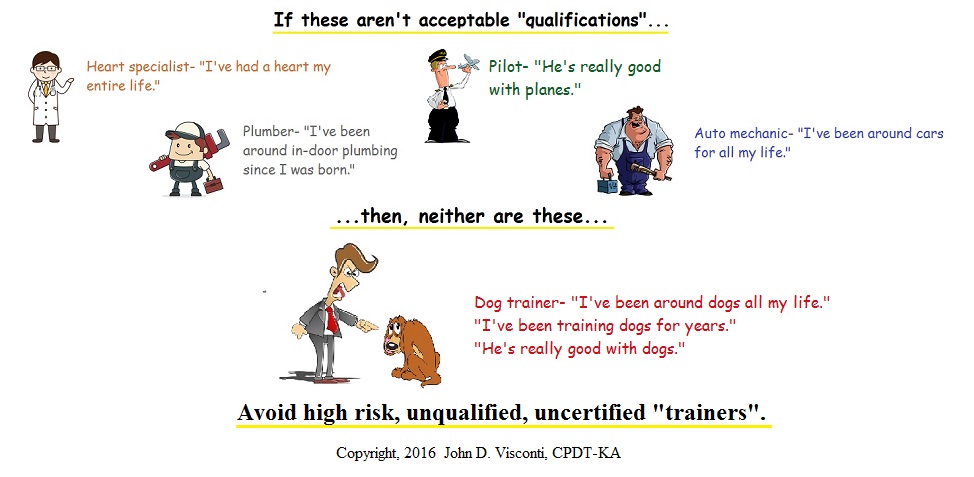 In order to obtain a cosmetology license in barbering, cosmetology, esthetics, nail technology, or waxing, students must complete 1000 hours of training plus pass a board certified exam and earn CEU's to keep the license active.
In order to call oneself a Dog Trainer the requirements are: zero. There are no federal or state requirements.
Read the Article I wrote for "The Examiner" Consumer Protection through Certification
Why hire a Certified Professional Dog Trainer?
Because the welfare of your family and dog or puppy are too important not to.
How to Choose a Trainer  (American Veterinary Society of Animal Behavior)
ASK FOR QUALIFICATIONS. The ONLY independent, internationally recognized certification is the CPDT-KA. What professional affiliations does the trainer have? To what associations/professional groups does the trainer belong?
ASK ABOUT FORMAL EDUCATION.
ASK if the trainer has signed a Code of Ethics such as the one I am bound by CCPDT Code of Ethics
ASK ABOUT CONTINUING EDUCATION. The field of dog training has changed dramatically through the years. Your trainer should be up to date on all the latest techniques and scientific studies.
ASK what the trainer is going to utilize to motivate your dog. There are only two ways to motivate a dog –  avoidance of pain or positive reinforcement (providing something of value, food, fetch, etc.) You should know, in advance, how the trainer will be motivating your dog.
I am a CPDT-KA (Certified Professional Dog Trainer—Knowledge Assessed, the only independent,
international certification for dog trainers. I am also AKC certified.)
To become a CPDT-KA trainers must:
Possess at least 300 hours of dog training experience
Provide referrals from a veterinarian, a client, and a colleague.
Pass a written science-based exam to demonstrate a specific body of knowledge.
Re-certify every three years by accumulating continuing education units.
I must sign and live by the CCPDT Code of Ethics
My Credentials/Certifications:
CPDT-KA (Certified Professional Dog Trainer) #2112724
AKC Certified Canine Good Citizen evaluator #77330
Member APDT (Association of Pet Dog Trainers) #74163
Former Chair for APDT Member Relations
Charter Member, Pet Professional Guild
Author of "Of Dogs and Men" column appearing in Chronicle of the Dog magazine
"Rescue Reporter" for LI DOG DIRECTORY
Columnist, Barks from the Guild
Co-creator and presenter of "Transitions: Your Baby and Your Dog" program
Columnist for The Examiner
Member, Truly Dog Friendly as Positive Reinforcement trainer
Presenter Doggonesafe
Member IAABC
Extensive shelter/rescue experience
Continuing Education Seminars/Lectures/Workshops
Science Based Training With Feeling; Dr Ian Dunbar
Lassie Come! Patricial McConnell, Ph. D.
Cujo Meets Pavlov; Kathy Sdao, MA, ACAAB
Storm & Other Phobias; Dr Nicholas Dodman
Scent Work In Dogs; Susan Bulanda CABC
How to Run Successful Group Classes; Rocky Boatman
Training Dogs With Dunbar; Dr Ian Dunbar
Feeling Outnumbered? Patricia McConnell, Ph. D.
Behavior Problems; Dr. Ian Dunbar
Helping Fido With Your Baby; Suzanne Hetts, Ph. D. and Daniel Estep, Ph. D.
Walking & Heeling; Dr. Ian Dunbar
The Art of Trick Dogging; Emily Larlham
Positive Reinforcement Beyond Food Rewards; Johnny Angel CDBC
For the Love of a Dog; Patricia McConnell, Ph. D.
Dominance Theory; Pam Reid, Ph. D.
Advanced Canine Behavior Seminar; Patricia McConnell, Ph. D.
From Leashes to Neurons and Psychopharmacology; Karen Overall, MA, VMD, Ph. D., DACVB
Rehabilitating the Shelter Dog; Pamela Reid, Ph. D.
Behavioral Genetics; James Ha, PHD, CAAB
Medications for Behavior Problems in Dogs and Cats; Louisa Beal, DVM
Motor Patterns and their influence on breed specific behavior problems; Ken McCort
Dog training and puppy training services in Wake County, Cary, Apex, Raleigh, Holly Springs, Morrisville.
Please call 919.977.0392 or 516.672.6280 or email me at john@risingstardogtraining.com