Puppy and Dog Training Services in Cary, Apex, Raleigh, Holly Springs, Morrisville.
I will live by the CCPDT Code of Ethics which is part of my certification. This provides you with worry-free training.
You'll be working with a positive reinforcement,  Certified Professional Dog Trainer (CPDT-KA) who is referred but local vets and animal hospitals. Positive reinforcement methods yield the best results with none of the downside risks associated with heavy handed training.
Dog and puppy parents often don't have a lot of free time for training. I'll supply you with some easy
ways to teach your dog and also provide you with ideas to reduce your dog's energy levels.
LIFETIME telephone and email support. Have a question two years after your last training session? Feel free to contact me.
Training is done in-home – your home is the best place for your puppy or dog to learn as
there are minimal distractions and your dog is learning in the environment
where she/he will be applying what we teach.
When you become a client, you'll be provided with access to a password protected page on this site. On this page you find videos of all basic obedience and behavior modification techniques. Having a visual to follow is a very effective way to review what we've covered in a lesson.
Each one of my clients completes a simple questionnaire prior to our training session. I'll invest my time, prior to our first appointment, familiarizing myself with your situation and training goals so that we can hit the ground running, rather than me taking up your time asking questions that I could have had answered in advanceYou're worth the investment of my time.
Each client receives a formal written proposal for review, prior to the first session..
Each client receives a nutrition assessment. Many behavioral issues have roots in poor nutrition. All you need to do is tell me what you're feeding, I do all the rest.
With every session you'll receive, detailed sample training plan to follow during the lesson and for reference after each lesson. No need for you to take notes or try to recall what we cover in a session.
All clients are provided with my written support material.
After each session, all clients receive a detailed written follow up plan and session review. (Video taping of your session is also an available option)
A picture paints 1000 words about how I train
Recently, I conducted a puppy training session for a family in Apex, NC with a young Goldendoodle. While I was training, the owner's five year old daughter was alternately watching me and quietly painting. When the session was over, she handed me the painting (below) and said "Thank you for helping us with our GoldenNoodle puppy. This is for you"
Her sentiments perfectly express the experience I strive to create when working with clients.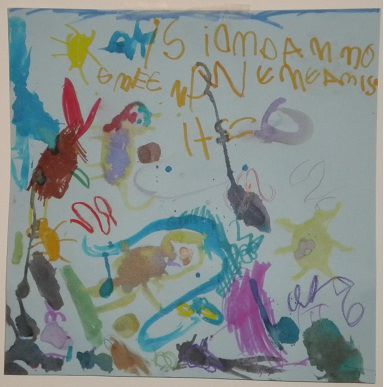 Fun. You and your puppy or dog can expect to have fun when we work together.
There is absolutely why training shouldn't be fun for your puppy, dog and you.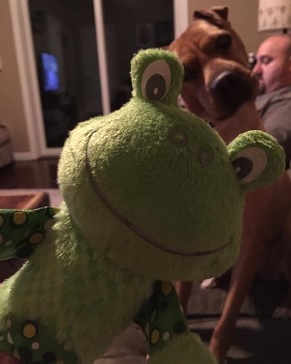 The wonderful, sweet, smart and zany,  Jax (she's the brown one).
Puppy Training  and Dog Training Services in Wake County, Cary, Apex, Raleigh, Holly Springs, Morrisville.
Please call 919.977.0392 or 516.672.6280 or email me at john@risingstardogtraining.com