The

Dangers

associated with

High Risk

Dog Training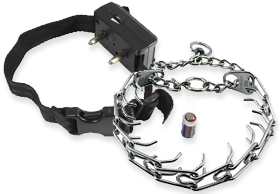 Countless scientific studies have proven that the use of force or physical discomfort to "train" a dog, or worse still, a puppy, results in many unintended and often, dangerous consequences.
From the American Veterinary Society of Animal Behavior (AVSAB):
AVSAB's position is that punishment (e.g., choke chains, pinch collars, and electronic collars…as well as other aversive techniques) should not be used…due to the potential adverse effects which include but are not limited to: inhibition of learning, increased fear-related and aggressive behaviors, and injury to animals and people interacting with animals.
AVSAB recommends that training should focus on reinforcing desired behaviors, i.e. positive reinforcement,  not correcting undesired behaviors.
The adverse effects of punishment can put the safety of the pet and the person administering the punishment at RISK. Because of these safety RISKS, people recommending these techniques are taking a liability .
To read the full position statement:  AVSAB's positioning statement on the use of punishment for behavior modification in animals.
Additionally, when faced with a situation that causes stress/over stimulation/ fear such as, leash pops, shock collar shocks, corrections with a choker or prong collar,  your dog's internal system releases hormones in preparation for some type of energetic reaction, more commonly known as "fight or flight". At that point, the trainer is working with a dog that is anything but in optimal condition to learn. As a result, learning takes longer, if it happens at all.
 A few words about interviewing trainers-
There are only two ways to motivate a dog – Avoidance of something unpleasant such as pain, intimidation, fear – or – the pursuit of something positive such as, food, petting, fetch games.  At minimum EVERY trainer should be crystal clear about the methods they will employ when working with your dog. Be wary of language that is used to intentionally mask what the methodology is.
For example- Often trainers will refer to "electronic training collars"…or "training collars"…or "remote collars"…etc. It's a shock collar. Let's call it what it is.  They don't specifically state that they use pain to train dogs. When interviewing, a great question to ask a trainer is, "When my dog or puppy gets it wrong, how will you be responding?" Anything but a clear answer is a cause for concern. Responses such as "every dog is different so there isn't one answer to that question" or "I use a balanced approach" or "I use natural methods" are all ways to obfuscate training methodology.
I don't hide my methodology. I use positive reinforcement methods. And I'm darn proud of it.
The advantages to working with a Low Risk Trainer, Positive Reinforcement trainer.

I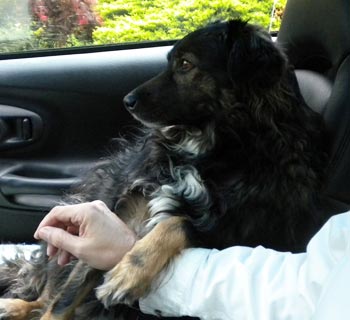 am a certified (CPDT-KA) LOW RISK positive reinforcement/force-free puppy and dog trainer. I reward the dog for doing the right thing, rather than punishing her/him for doing the wrong thing.
A dog can find countless ways to get something wrong and owners can spend just as many hours correcting behavior. Using methods that correct the dog take longer and are less rewarding for owner and dog.
There's only one way to get something right. Decide what you'd like your dog to be doing in any given context, then, let's show your dog what you want him/her TO do and then reinforce that behavior. It's a lot easier; it takes a lot less time; and it's a lot more enjoyable. This is the foundational concept for positive reinforcement dog training.
And if your dog has behavioral issues, punishment will likely only worsen those behaviors. Your dog needs to learn a more appropriate behavior. We'll start by establishing management techniques to get the situation under control. You'll choose a more desirable behavior than the one your dog is currently performing and together we will teach your dog that behavior.
The choice is yours. High Risk Dog Training, with constant time consuming corrections and the potential for many dangerous consequences or the more efficient and rewarding Low Risk Dog Training approach.
Read my dog training article for The Examiner about High Risk Training
Puppy training and dog training services in Wake County, Cary, Apex, Raleigh, Holly Springs, Morrisville.
Please call 919.977.0392 or 516.672.6280 or email me at john@risingstardogtraining.com